Leadership that creates space for others to join, feel and be heard too.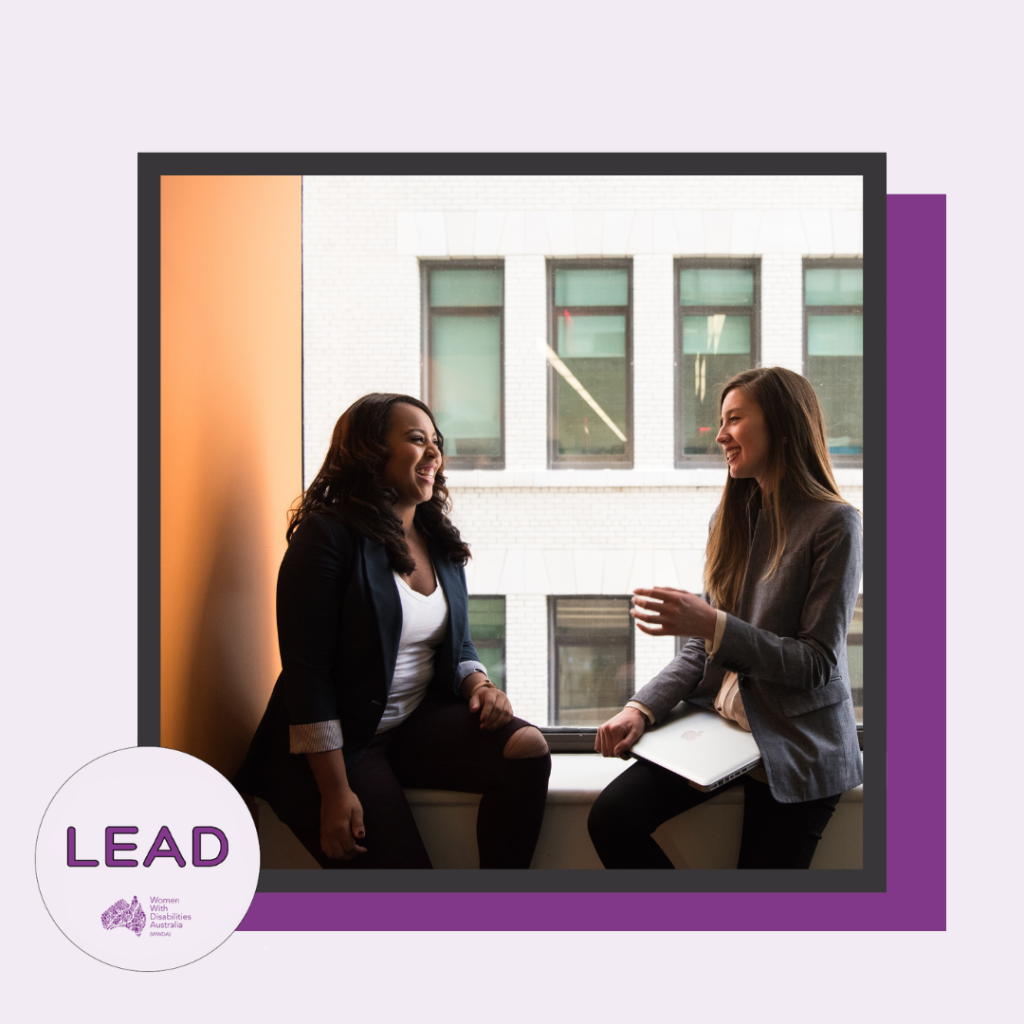 Women with Disabilities Australia's (WWDA) first leadership principle challenges traditional dynamics of leadership and the power imbalances that come with it by creating a space for everyone to be heard, valued, and want to contribute their skills and talents. The Lead, Engage, Activate, Drive (LEAD) project has been integral in ensuring that conventional leadership values are being examined and rebuilt into more accessible constructs that allow women with disability the opportunity to engage in meaningful employment. WWDA recognises leadership potential in all women and girls with disability (WGwD) and that leadership roles can be seen throughout all aspects of life such as in the home, community, and workplace. (1)
Australian Disability Enterprises (ADEs) are segregated settings of employment for people with disability. These State sanctioned environments perpetuate ongoing cycles of abuse, neglect, violence, and exploitation of people with disabilities that are trying to participate in paid employment. WWDA has recommended the Royal Commission acknowledge that ADEs enable abuse perpetuated against people with disabilities in segregated workplace environments and that ADEs contravene Article 27 of the Committee on the Rights of Persons with Disabilities (CRPD). These abuses extend into exploitation of people with disabilities, meaning that people with disabilities are not appropriately remunerated for their services or contributions to the workplace, or that they are forced into positions where they are made to do work well below their skill level. (2) ADEs usually limit employment opportunities to assembly line production, janitorial, laundry, or gardening. (3)
WWDA believes that all WGwD have valuable insight from lived experiences and talent to offer employers and as such should have the opportunity to showcase their skills in paid employment. As an employer, you must set the standard of your staff and how successful you want them and your company to become. Leading by lifting others up with you disrupts the status quo and turns outdated styles of leadership on its head allowing you to grow. (1)
Endnotes
1. Women with Disabilities Australia. WWDA LEAD Leadership Statement [Internet]. WWDA LEAD. 2022 [cited 2022 Aug 18]. Available from: https://wwda.org.au/publication/wwda-lead-leadership-statement/
2. Women with Disabilities Australia. Response to the Employment Issues Paper of the Royal Commission into Violence, Abuse, Neglect and Exploitation of People with Disability. Hobart; 2020.
3. Department of Social Services. Supported Employment [Internet]. For People with Disability. 2022 [cited 2022 Aug 18]. Available from: https://www.dss.gov.au/disability-and-carers-programs-services-for-people-with-disability/supported-employment