Easy English
You can download the Easy English information here:
Submissions Now Closed
The WWDA LEAD Art Prize is open to all women, girls, feminine identifying and non-binary people with disability in Australia. You do not need to be an Australian citizen or permanent resident to enter. You must be 15 years or older to enter, however parental/carer permission must be sought before entry if you are under 18.
Submitting to the prize is free. Entries from both individual artists and groups will be accepted, however each artist/group of artists may only submit one artwork to the prize.
WWDA will accept all visual artistic mediums, including paintings, drawings, collages, craft, sculptures, photograph and videos. All submissions must be accompanied by an image description.
Due to COVID-19 safety precautions, WWDA requests that entries be submitted virtually via photographs, digital scans or other digital representations of artworks (e.g., a scan of your drawing, a photograph or video of your sculpture). We cannot accept physical works.
If you need support to submit your entry to the prize (for example, you'd like to submit your submission form verbally over the phone), or have questions, you can contact Mali through many different ways:
You can email Mali Hermans at project@wwda.org.au
You can call or text Mali on 0488 417 875
You can use the National Relay service to call us. Call 1800 555 677 and ask for 0488 417 875
Need a translator? Call 131 450 and ask for 0488 417 875
Send a letter to PO Box 407, Lenah Valley, Tasmania 7008, Australia

Important dates
| | |
| --- | --- |
| Date | Activity |
| 8 March 2021 | Art Prize Entries Opens |
| 23 July 2021 | Art Prize Entries Close |
| 2 August 2021 | Virtual Exhibition Launched |
| 2 August 2021 | People's Choice Award Voting Opens |
| 20 August 2021 | People's Choice Award Voting Closes |
| 26 August 2021 | Art Prize Awards Ceremony & Winners Announced |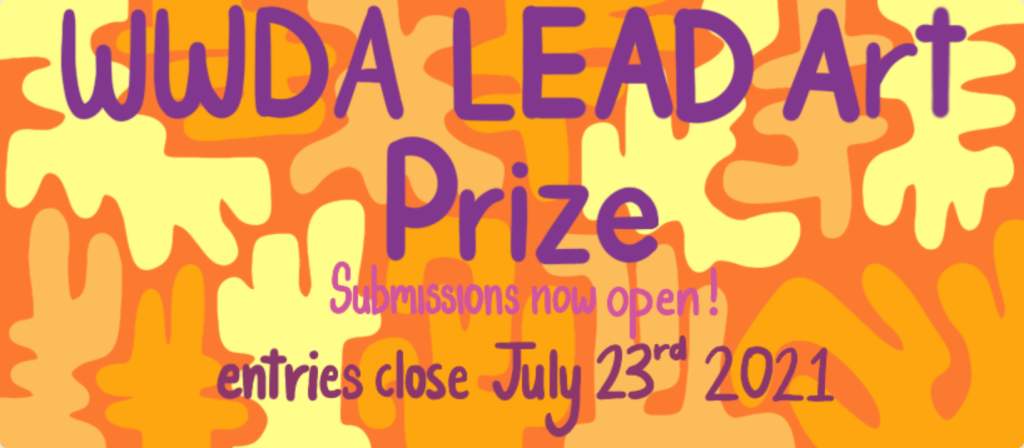 Prize Divisions and Judging
Several Divisions of the WWDA LEAD Art Prize will be awarded. These include:
Under 18's Division
Over 18's Division
People's Choice Awards
A winner and runner-up will be chosen for each division. Highly commended entrants across all divisions will also be awarded.
Prizes will be given in the form of gift vouchers and art supplies, and be up to the value of:
Winner of each divisions: $500
Runner up of each division: $200
Highly commended entries: $50
WWDA is excited to have a talented panel of artists with disabilities to externally judge the prize. Our judges include Meleika Gesa-Fatafehi AKA Vika Mana, Fiona Hamilton and Larissa MacFarlane.
Judges will determine the winners of the Under 18's and Over 18's divisions. The People's Choice Awards division, in which all entries to the prize shall be included, will be open to the public for voting, with the winner to be decided based on these votes. Voting will open on August 2nd, 2021 and close on August 20th, 2021. Links and information on how to vote in this division shall be published across WWDA's social media and websites.
Exhibition
All works submitted to the WWDA LEAD Art Prize shall be virtually exhibited via WWDA's Our Site and the WWDA Website. Entries may also be shared across WWDA's various social media platforms, including WWDA's Facebook, Twitter and Instagram accounts.
Contact Us
If you require any further information you can contact us in the following ways:
Email Mali Hermans at project@wwda.org.au
Call or text Mali on 0488 417 875
Use the National Relay service to call us. Call 1800 555 677 and ask for 0488 417 875
Need a translator? Call 131 450 and ask for 0488 417 875
Send a letter to PO Box 407, Lenah Valley, Tasmania 7008, Australia
WWDA LEAD Activities
Find out more about the other activities you could get involved by clicking one of the below: