I have suspected I have Attention Deficit Hyperactivity Disorder (ADHD) for about 2 years, mostly inattentive and distractible, with a touch of impulsivity.
A dear friend opened up to me about her struggles and how she had difficulty, among other things, concentrating and remembering conversations and recalling information. And I thought; "Wow, that's so me". I didn't think much of it. I was 38 years old then and spent my whole life unknowingly dealing with ADHD.
It didn't affect my life majorly so I left it. Until last year.
My 4 year old daughter, Isabelle (Izzy) was diagnosed with Rett Syndrome in October 2019, a rare genetic disorder that affects speech, coordination and use of hands.
At this stage, Izzy is non-speaking and with the help of our amazing allied health professional team, I was introduced to the world of Augmentative and Alternative Communication (AAC) in 2021.
As a child with complex communication needs, Izzy needs Assistive Technology (AT) to help her communicate her needs, wants, thoughts, feelings and ideas. This can take many forms. For Isabelle, we started with a PODD communication before receiving a Tobii Dynavox eye gaze computer last year.
This is where I really started to struggle with my ADHD. How do you learn a brand new form of communication when you REALLY do not want to? I knew it would help Izzy immensely and give her a voice. I felt so guilty and ashamed for pushing it off for almost a whole year because it was too hard.
First, I had to remember to charge the eye gaze and iPad.
Second, I had to remember to carry every communication system with me.
Third, I had to learn how to use it, everywhere and regularly.
I struggled, A LOT. I didn't know where to start but I knew I had to start somewhere.
So, I did. Little by little. Day by day. I developed a motto which I swear by now.
T – Threshold
I – Inner voice
M – Mindfulness
E – Expectations
Threshold refers to my mental and physical boundaries. I learned it was important to identify my limits early on or my brain would stop functioning entirely by the evening.
My inner voice helps me talk through my doubts and insecurity. Things like "It's okay to struggle with this right now, be kind to yourself, you will get it eventually."
I found mindfulness is still really helpful just to quiet my mind for a few minutes each day, which otherwise, is racing at a million miles an hour all the time.
Last but not least, setting up realistic expectations was the hardest thing to do for me and something I still struggle with on a daily basis.
All of this takes a long time and a lot of patience.
It's only at the end of last year that I got an official ADHD diagnosis. I felt a mix of relief, grief and anger.
Relief that I have a neurodivergent brain which helps explain my life struggles.
Grief that it's something that I'm going to have to deal with forever.
Anger that it wasn't diagnosed when I was a child.
I'm in a much better place now. I am able to use my strengths and be self-compassionate when my ADHD surfaces.
My next big challenge is to learn how to do "linear and group item scanning" and I REALLY don't want to. However, using this technique, I would become a much better communication partner and help Izzy use her Augmentative and Alternative Communication (AAC) systems more decisively.
I have seen it coming and been preparing myself for months going through my TIME method above.
And I will get there.
Little by little. Day by day.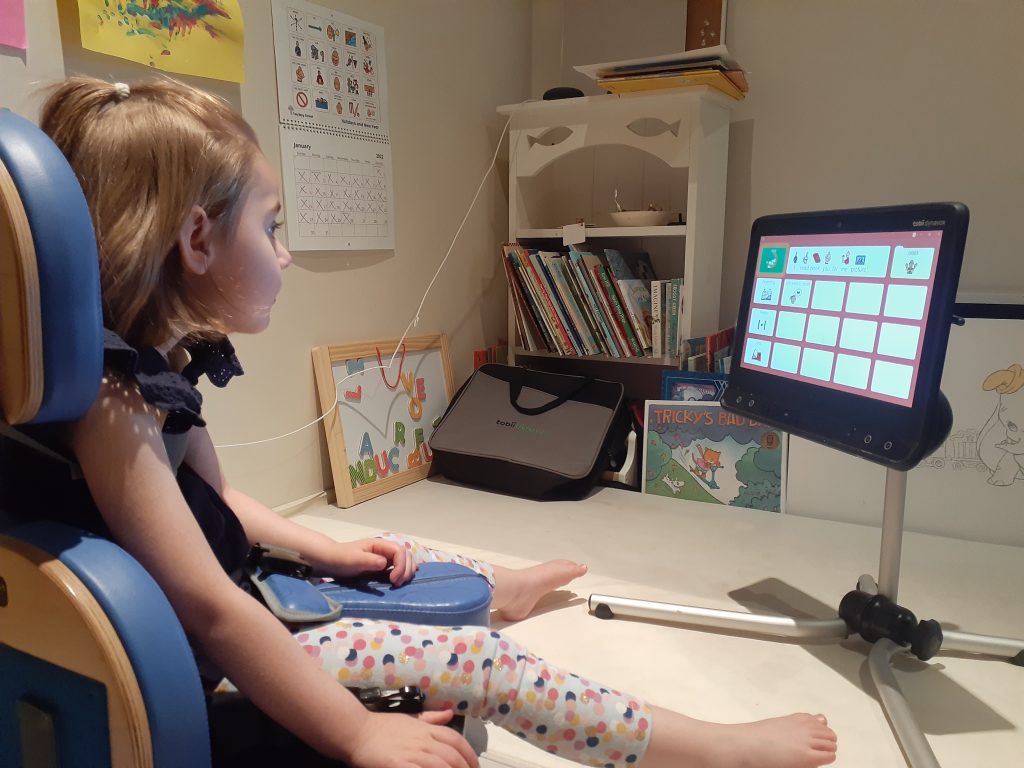 Marie-Christine Lamy a freelance blogger and disability advocate who is actively involved in the community to help build more inclusive, accessible services and facilities for people with disabilities, especially children. She started a Facebook blog, @ReadilyAACcessible, to help raise awareness on the need to make digital reading platforms and apps compatible with eye gaze technology and other Augmentative and Alternative Communication (AAC) access methods, so children with complex communication needs can do self-selected reading at their own pace and as independently as possible on their preferred devices.
See our full leadership blog here: Leadership Blog
Would you like to contribute?
If you want to submit a blog post on leadership, you can learn more here.
Want to learn more about LEAD?
If you would like to learn more about WWDA's new project, LEAD, find out more on the LEAD page.
Disclaimer
The blog posts do not necessarily represent the views and opinions of Women with Disabilities Australia (WWDA), and blog posts are contributions made by women, girls or non-binary persons with disability about what leadership means to them. All possible care has been taken in the preparation of the information contained in this document. WWDA disclaims any liability for the accuracy and sufficiency of the information and under no circumstances shall be liable in negligence or otherwise in or arising out of the preparation or supply of any of the information aforesaid.