In 2021, Newtown, NSW saw outdoor pole dancing, an unplanned K-pop dance and a Paralympian joking about 'inspiration porn' – all whilst people gazed at giant decorated underpants. What was going on? The inaugural Inner West Disability Pride Festival – returning April 9!
Disability Pride doesn't have much profile in Australia compared to overseas contexts, but it's a global movement dating back to at least the 1990s. It's about turning the usual responses and attitudes towards disability on their heads by celebrating ourselves as a community of people with disabilities: unique, valuable, and distinctive. It's about fighting back against discrimination and taking a radical stand against stigma. Like other pride movements, it's a protest and a celebration of a part of our identity that makes up who we are.
As one of last year's organisers, Hannah remembers the festivities quite well. It was exhausting, terrifying, and exhilarating. "We showed off some of our skills with pole dancing, poetry, and art. We protested and made our voices heard. We weren't hiding away. We were outdoors in one of Sydney's busiest precincts, and we had information on offer to help people who were interested to understand Disability Pride."
After a moving and personalised Welcome to Country, performed by Deborah Lennis, Paralympic medalist Paul Nunnari shared some of his story. He spoke against seeing disability mostly in terms of the 'medical model', which looks at what is 'wrong' with disabled people, rather than what barriers society puts in place. It was a fiery speech that got the crowd into protest mode, chanting 'Medical model out! Medical model out!' What this demonstrated is that people with disability want the community to look at the many different ways we can participate and contribute, not at what is perceived to be 'wrong' with us.
Hannah recalls celebration taking over the stage throughout last year's festival. "We had a pole dance, (yes, that's right, a pole dance!), outdoors performed by Deb Roach, right across the road from Newtown Railway Station. Deb Roach is a world pole dance champion three times over, and she has only one arm."
Other performers were integral to making the festival what it was. Holly Craig stepped up to perform original poetry. Holly is blind. Movement and atmospheric sound are part of her performances. That sets her work apart from what most sighted poets offer.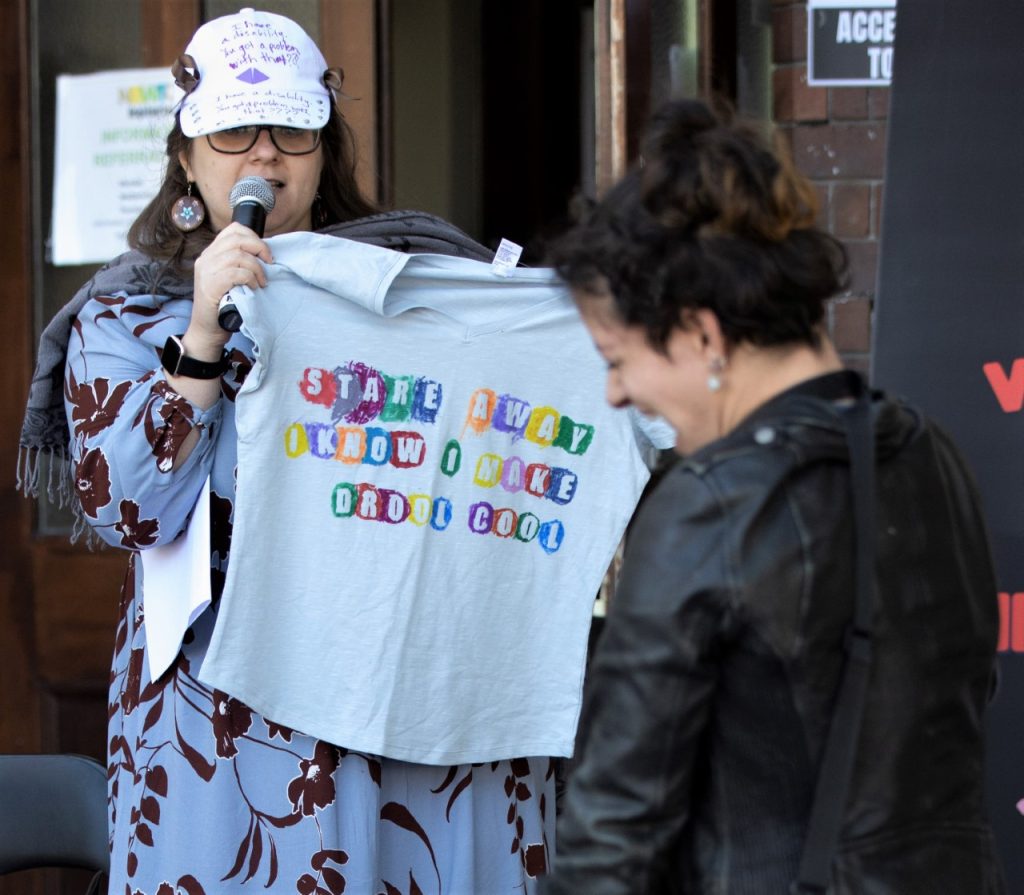 Last year's festival also had a panel discussion. Panelists shared their experiences of living with disability. The people of Newtown heard voices they might not have heard before. We had lots of crowd participation in response, with many audience members giving speeches, and one member even giving a dance recital! People created Disability Pride shirts and hats and showed them off to the crowd. There was a brightly painted googly-eyed hat representing a feeling of surveillance and restriction. There was a shirt painted with the words "Stare Away. I Know I make Drool Cool".
When Hannah started on the organising committee for the Inner West Disability Pride Festival (later becoming MC as well!), she had no idea what she was really taking on. "I had to learn a whole lot of new skills really fast. I had to deal with crises. On the day, our sound guy didn't show up. The speaker and me were left screaming at the top of our lungs over traffic for an hour. The pole dancer was afraid she would fall off because of the cold. Equipment didn't show up. I fell to pieces. I didn't know how to cope. But I had the support of other people with disabilities. They helped me overcome my fear. They supported me."
Hannah came away from the day having shouted herself hoarse, and with fluro green fabric paint stains on her new dress. "I also came away with an unbelievable sense of confidence and elation. I'm excited to be doing it again this year!"
Jane didn't know about last year's event, but jumped at the chance to be involved for 2022.
COVID has brought a rough few years for the disabled community. Many people in our community have found it tough or even impossible to get the support they need, just to do basic things in life like buy food, take a shower, or avoid catching COVID. That's why it's such an important time to get together and support each other, as well as saying to the wider community "We exist, and we have value. We deserve our place." If we've learnt anything from the pandemic, it's that hybrid events are possible and inclusive. This year, we'll therefore be livestreaming the event so that even more people can join in.
This year's festival will see the return of Deb Roach and pole dancing. Simon Darcy, a professor from UTS who has a spinal injury, will share from his long experience as a disability activist. Lara Nakhle, who is blind, will sing for us. Attendees will even be able to make some more Disability Pride art. There will be fun and celebration, protest, and discussion.
Come and join us on April 9, 11am at Newtown Neighbourhood Centre!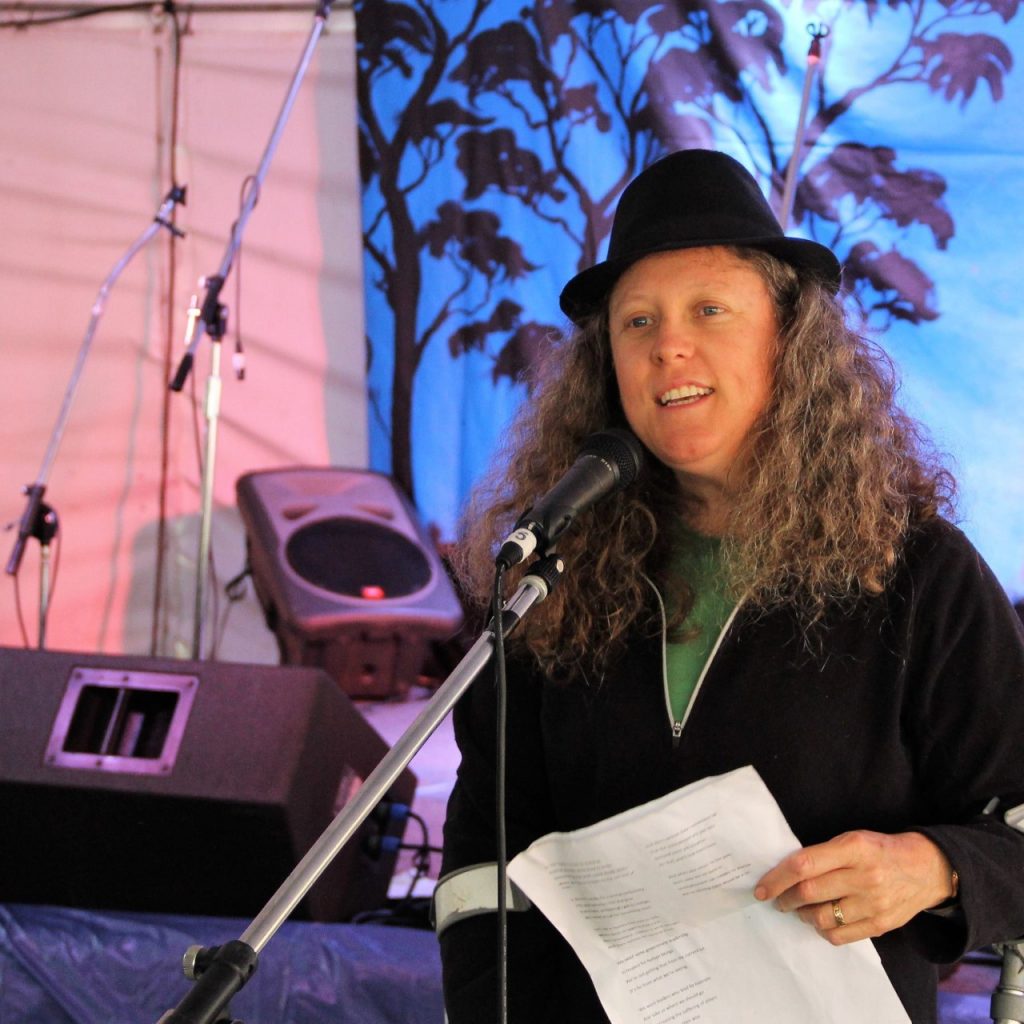 Hannah Solomons is co-chair of the organising committee for Inner West Disability Pride Fest, founder of the Sydney Epilepsy Jacaranda Club, guest on the Autism episode of You Can't Cask That, and possessor of a range of disabilities. She is doing her PhD in disabilities and the law at UTS Sydney.

Jane Scott is a Freelance writer with a disability, working for a world where disabled people are expected to show up and a key member of the organising committee for disability pride fest. Her blog is Rolling Through – Life from my wheelchair.
See our full leadership blog here: Leadership Blog
Would you like to contribute?
If you want to submit a blog post on leadership, you can learn more here or email our Blog Editor at blogs@wwda.org.au.
Want to learn more about LEAD?
If you would like to learn more about WWDA's new project, LEAD, find out more on the LEAD page.
Disclaimer
The blog posts do not necessarily represent the views and opinions of Women with Disabilities Australia (WWDA), and blog posts are contributions made by women, girls or non-binary persons with disability about what leadership means to them. All possible care has been taken in the preparation of the information contained in this document. WWDA disclaims any liability for the accuracy and sufficiency of the information and under no circumstances shall be liable in negligence or otherwise in or arising out of the preparation or supply of any of the information aforesaid.