On display at 107 Redfern in Sydney, Unscheduled is a unique and passionate exhibition, featuring artwork by women with lived experience of involuntary mental health treatment. It runs from 3 May until 13 May 2023. The exhibition is part of a larger participatory research project, currently in its third year, at the University of Sydney.
The gallery provides literal and symbolic space for the voices of these female artists, whose concerns, criticisms, and recommendations are often left unaddressed and neglected by mainstream healthcare services. What should be made more widely known about their experiences of trauma and recovery? What systemic changes are needed? And what differentiates "helpful help" from "unhelpful help"?
Unscheduled is an apt name for a few reasons. The women were all previously "scheduled," legally required in Australia to attend a hospital against their will, and the word "unscheduled" demonstrates resistance to this practice. Further, the opinions expressed via these creative works fight against the "appointed, assigned, or designated" power structures and methods governing mental health treatment. (That's from Merriam-Webster's definition of unscheduled.)
Lastly, the art encourages a remaking of mental healthcare treatment: more collaborative and participatory, more focused on lived experience, less linear and regimented, and less biomedical. Less scheduled.
The artwork and accompanying signs, describing the female artists' experiences of forced treatment, trauma, prejudice, discrimination, and hopes for change, remind us that many women believe the system is still failing them.
As a writer, I particularly appreciated the written art. It took various forms, such as:
A collective write-up of discriminatory labels and statements directed at participants — she's an addict; junkie; paranoid; a bitch; too emotional; unpredictable; also a brown woman; persistent depressive disorder; narcissistic, entitled; arrogant; ditzy; too much, etc.
A piece pointing out the hypocrisy of the buzzwords and slogans that are prevalent in mental health services and campaigns — "Reach out for support" becomes "She's just attention seeking," and "It's ok to not be ok" becomes "You need to be more resilient."
A poem called "Mental Patient" — "An empty room you fill / With thoughts at a window sill / It is a well-lit dungeon / To stave off self-destruction."
The creative work includes solo and collaborative pieces, like a photo showing what the project's participatory methods looked like. In addition, Unscheduled also presents several illustrations by the social enterprise Good Point Design. Lining one wall, these compositions visually communicate the research findings, in line with the participants' desires for the results to take a tangible form beyond academia.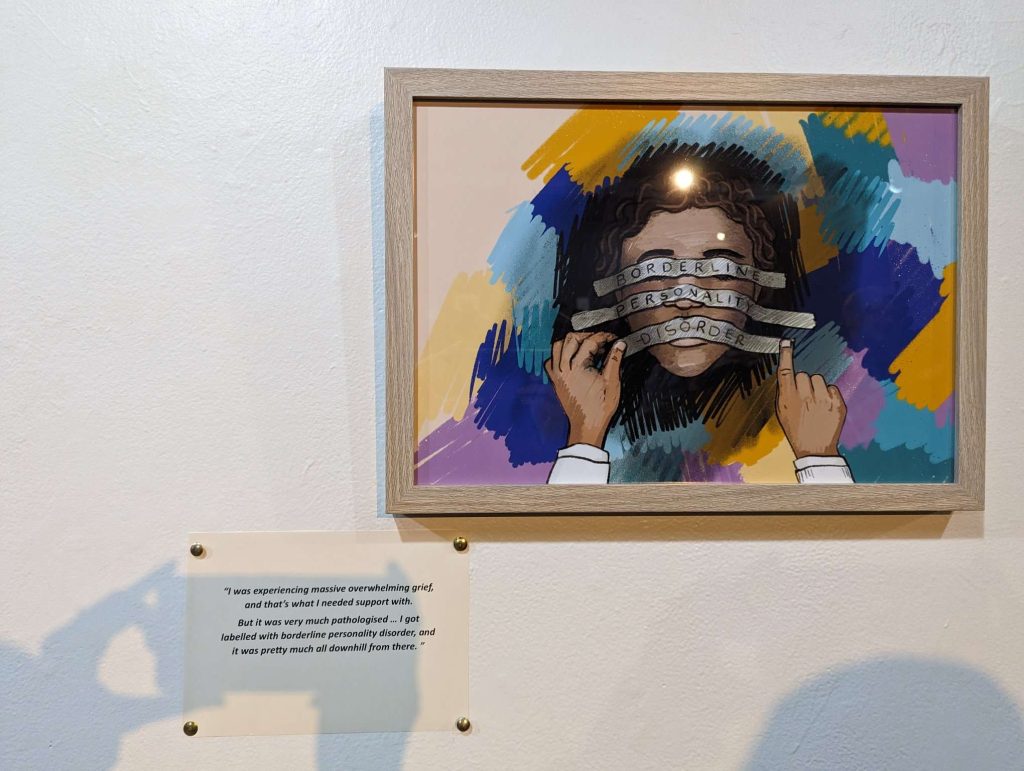 On the opening night, we heard from both researchers and artists.
"Women told us that they didn't just want their stories presented in academic publications," one researcher explained to those gathered. "There's value in that, and the women saw that value. But they also told us that they would really like this to be something that's physical, available to the public in a different medium."
While co-design is becoming fashionable in social sciences and health research, she reminded us that there is still a lot of "faux-design." So, from day one, their project has sought to embed authentic co-design in every phase of the research. "Everything you see here tonight is not just about telling that untold story of harm, but it's really about extending an invitation to you all to be part of imagining different and kinder ways of doing things."
She also quoted feminist psychiatrist and trauma theorist Judith Herman: "No intervention that takes power away from the survivor can possibly serve her, no matter how much it may seem in her immediate best interests." Something she'd seen in her own life and those of her loved ones.
One project participant/artist identified as a survivor of mental health services. "When I was taken to a hospital following a suicide attempt, and a nurse told me I was just 'attention seeking' and a waste of resources, I survived. And when I was held as an involuntary patient and locked in a seclusion room, when I was overwhelmed with grief and despair, I survived," she told us. "When I was taken to a hospital emergency department in crisis and tied to a bed for four hours, I survived."
The larger project from which Unscheduled stems is called Reducing Gendered Harm in Involuntary Mental Health Service Provision, funded by the Australian Research Council (ARC). To learn more about the research, please contact Emma Tseris, a social work lecturer at the University of Sydney.
Monique Moate is a writer, editor and woman of colour living in Sydney with her husband and cat. She cares about mental health awareness and destigmatisation, as well as social and racial equality. Monique enjoys writing about and researching diverse topics and analysing how people use language (including written, spoken and nonverbal language).