When I think of leadership, I think of my mum, Julie, a proud disabled woman. Julie was not a leader in the traditional sense – she did not have a university education or leadership credentials from any training or course. She wasn't employed or a part of any workplace, and she was never recognised for the value and change she brought to the world and her community. But Julie was loud and assertive. Subjected to violence, abuse, neglect, institutionalisation, and often having to navigate multiple system failures, Julie did not accept the way people and services treated her. Sometimes by herself, other times with the support of an advocate, Julie spoke up when she was not being treated fairly or respectfully. Julie demanded her care needs be met, always emphasising that they weren't "too complex" or "too expensive" – they were human.
There is one example of my mum's leadership I will always remember and cherish. It took place in the small regional hospital of the town I grew up in. After being diagnosed with Guillain-Barre Syndrome and acquiring quadriplegia, Julie spent over a year being shifted from one local hospital to the next, with no accessible housing becoming available. Fed up with the NDIS not funding specialist disability accommodation and with living in what was often an unsafe hospital environment, Mum went on hunger strike. She got me to film a message to the NDIS and post it on social media. Many months later, with the help of journalists, Julie finally secured funding in her NDIS plan for accommodation, and left hospital.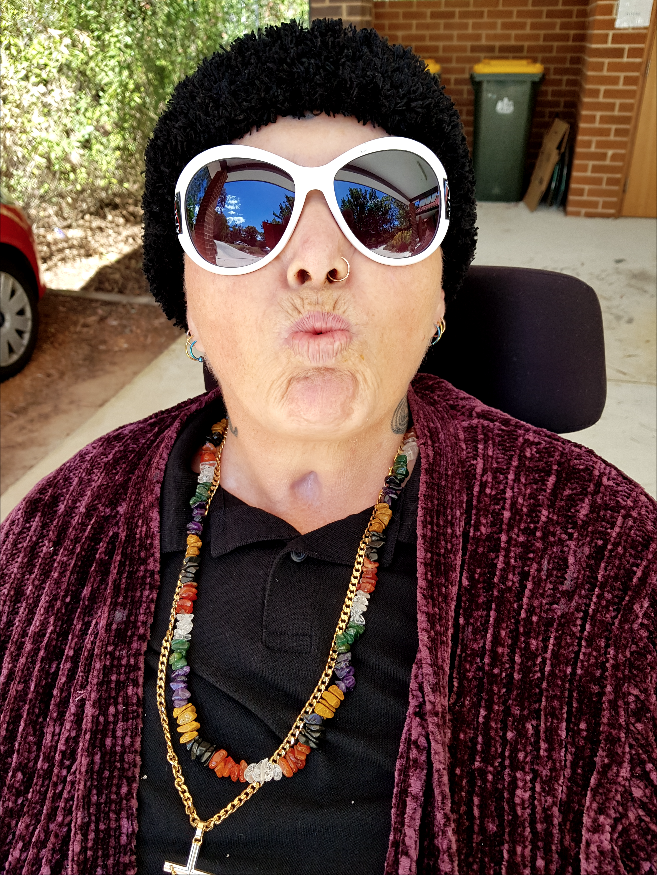 Whilst nurses and staff had attributed Julie's hunger strike to 'behavioural problems,' in reality, mum had exercised what little agency and autonomy she had to assert her rights. We both knew this. Hunger strikes have a long history of being used as non-violent resistance, undertaken by those denied a voice. In my mum's case, a hunger strike was her way of refusing to accept the situation she had been left in by systems that were supposed to provide help and support but had instead abandoned her.
I carry the memory of Julie with me, who has now passed on, along with the memory of her leadership. As a disabled woman myself, I look to her, and to other ancestors, for guidance and leadership whilst living in this deeply ableist world. Whilst different power structures may leave us as disabled women and non-binary folks feeling isolated and alone, and with the history of our community's struggle often overlooked, it is important to remember that we have always existed, and so too has our leadership.
When I think of disabled leadership, I think of the millions of First Nations women with disabilities who continue to be a part of this land, having cared for country and community since time immemorial. I think of the many queer and trans crip activists who have fought for disability justice, on and off our streets. I think of the many migrant and refugee women with disabilities who have moved across oceans, demanding an end to violence and displacement.
As a part of the Women with Disabilities Australia (WWDA) team, I now also think of the inspiring women I work with, and the many women who led this advocacy work before us. I remember leaders like Sue Salthouse, who I was privileged to learn from as a board member of Women With Disabilities ACT, and cherish her legacy. In learning from these women, I have been able to figure out what leadership means to me.
To me, leadership is…
Intergenerational – Our leadership as disabled women and non-binary folks builds off the work of all those people who have come before us. We are not reinventing the wheel, but rather carrying forward previous struggles.
Grassroots – Our leadership is at its best when it comes from the grassroots. Those with lived experience and those who are most affected by systems of power are best positioned to lead. When those most affected get free, we all get free.
Collective – Our leadership is a collective effort and is about achieving better outcomes for our communities, not building our individual profiles. True leadership prioritises the interests of the collective and breaks down old hierarchies of power.
Sustainable – Our leadership as disabled people is sustainable. It acknowledges the many barriers we face and the need to work 'slower.' Leading with slowness and intention is how we ensure we are in this fight for the long haul.
Visionary – Our leaderships continues to be visionary and pushes the limits of our imaginations. Whilst being grounded in an awareness of our capacity, our leadership is fearless and speaks to the visions of justice we want from this world. Many of the things that make life possible for us now were once thought unimaginable.
Of course, leadership is as varied and diverse as we are! And that's why we want to hear from you.
As WWDA begins work on our new project, WWDA LEAD, we hope this blog will be a space to hear about what leadership means to you and our community. Over the coming months and years, we will be publishing your commentary and critique – unveiling the voices of many disabled leaders, often overlooked by the mainstream.
Would you like to contribute?
If you want to submit a blog post on leadership, you can learn more here or email our Blog Editor, Mali, at project@wwda.org.au
Want to learn more?
If you would like to learn more about WWDA's new project, LEAD, find out more on the LEAD project page.
Disclaimer
The blog posts do not necessarily represent the views and opinions of Women with Disabilities Australia (WWDA), and blog posts are contributions made by women, girls or non-binary persons with disability about what leadership means to them. All possible care has been taken in the preparation of the information contained in this document. WWDA disclaims any liability for the accuracy and sufficiency of the information and under no circumstances shall be liable in negligence or otherwise in or arising out of the preparation or supply of any of the information aforesaid.