A webinar for women with disability on how to get involved.
As the only national organisation representing women and girls with disability, Women With Disabilities Australia (WWDA) was instrumental in the introduction of the Royal Commission into Violence, Abuse, Neglect and Exploitation of People with Disability (Also known as the Disability Royal Commission) and is passionate about getting women with disabilities involved.
On Tuesday 13 April at 12pm, the WWDA team held a live information session about the Royal Commission into Violence, Abuse, Neglect and Exploitation of People With Disability and how women, girls, feminine identifying and non-binary people with disability can get involved.
If you missed the session, you can watch the recording below:
Speakers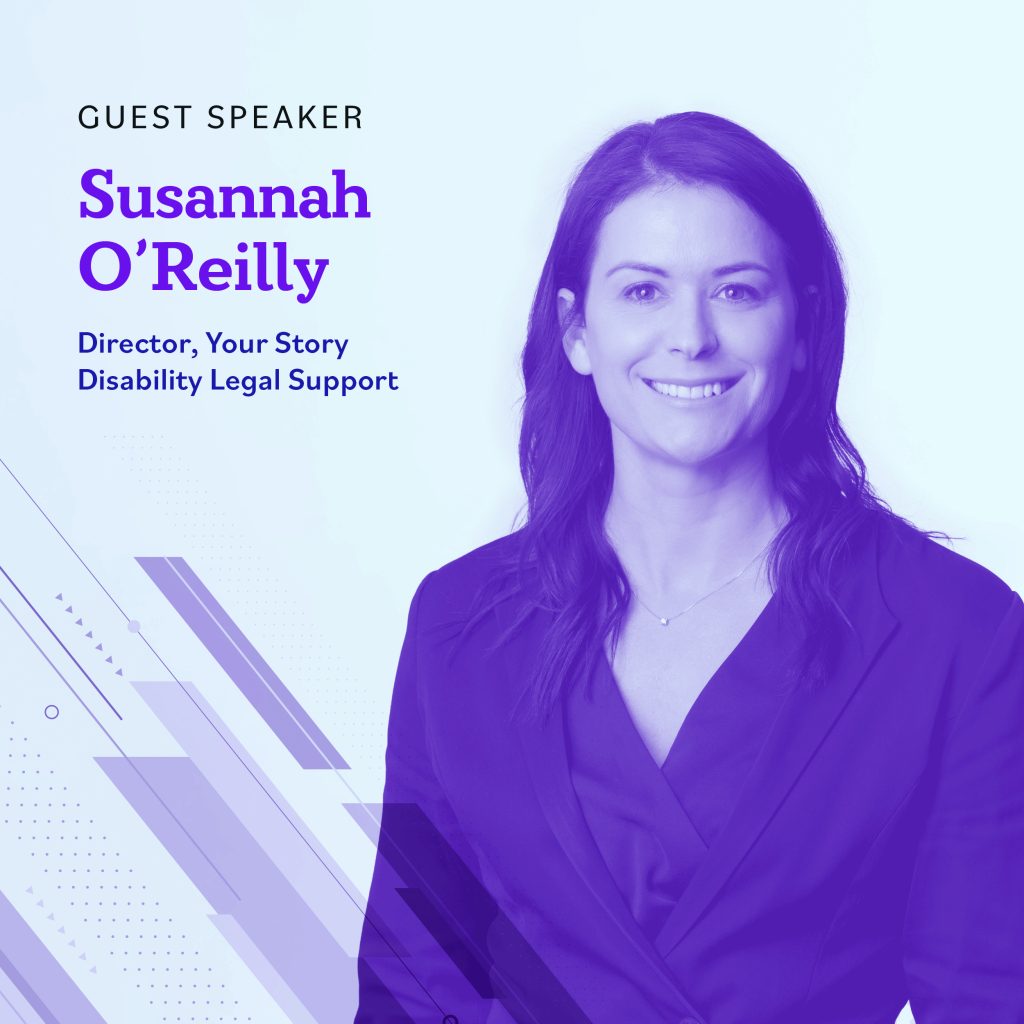 Susannah O'Reilly
Director, Your Story Disability Legal Support
Susannah started with the Your Story Disability Legal Support in November 2020, after holding various roles at Legal Aid NSW including the Director of Client and Case Management System and the Solicitor in Charge of the Domestic Violence Unit. Susannah has worked as a lawyer with children, young people and parents for fifteen years in the areas of domestic violence, child protection and family law.

From 2014, Susannah was involved in establishing Legal Aid NSW's Domestic Violence Unit, and the Family Advocacy and Support Services in NSW. She completed a Bachelor of Arts (sociology) and Bachelor of Laws (with Honours) in 2004, as well as a Diploma of Frontline Management and an Executive Masters in Public Administration in more recent years.

Susannah is passionate about social justice and about legal services that work together with clients in a way that values respect, dignity and compassion. She loves being able to contribute to systematic change, as well as to services that can create change through improving the experience that a client may have through a legal process (knowing that it can be a very challenging and sometimes traumatic journey).

"Working with Your Story is a cause very close to my heart both professionally and personally, as my brother passed away from a degenerative metabolic disorder. Growing up with this experience taught me respect for the resilience of people with a disability and their families, as well as for the importance of high quality and trauma-informed support."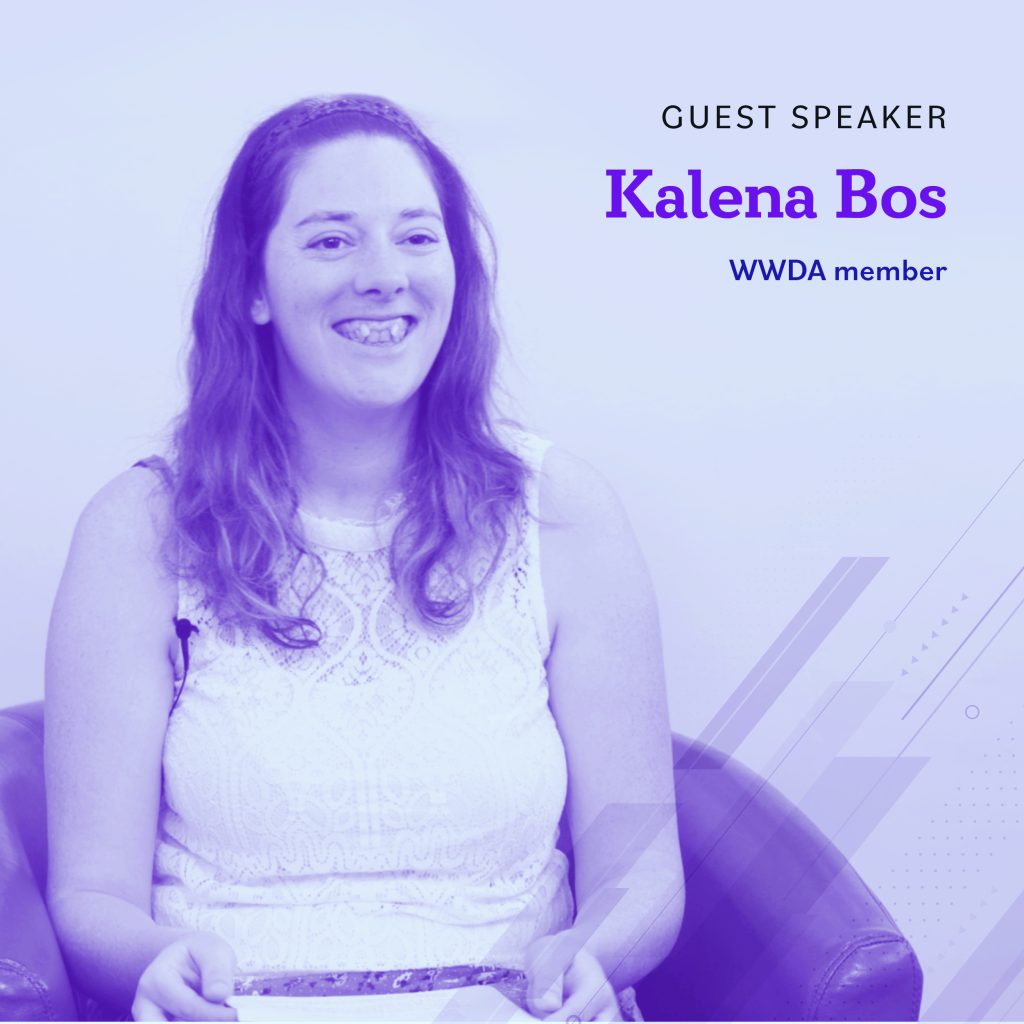 Kalena Bos
WWDA member
Kalena Bos lives on the north west coast of Tasmania with her husband David.
She is a long-standing Speak Out member and represents Tasmanians with intellectual disability on the national Our Voice Committee of Inclusion Australia: National Council for Intellectual Disability.
Currently Kalena is the self-advocacy representative on Inclusion Australia's "Make Decisions Real" Project Steering Committee, a 3-year national project that aims to improve supported decision making for people with intellectual disability and their decision supporters.
Kalena's many contributions include doing the voiceover for Casey in the highly successful Decisions Decisions animation, representing NW members on Speak Out's Members Executive dual governance structure, and representing Australians with intellectual disability at the Global Self Advocacy Symposium, and Inclusion International Conference in Orlando, USA in 2016.
Along with her Our Voice peers, she completed research about ways people with intellectual disability's use technology and their experiences. These contributions were recognized in Our Voice receiving the Robert Martin Self Advocacy Award in 2019.
A key contributor to the first co-designed online discussion with the Disability Royal Commission, Kalena gave evidence at two public hearings for the DRC – Emergency Response and Employment.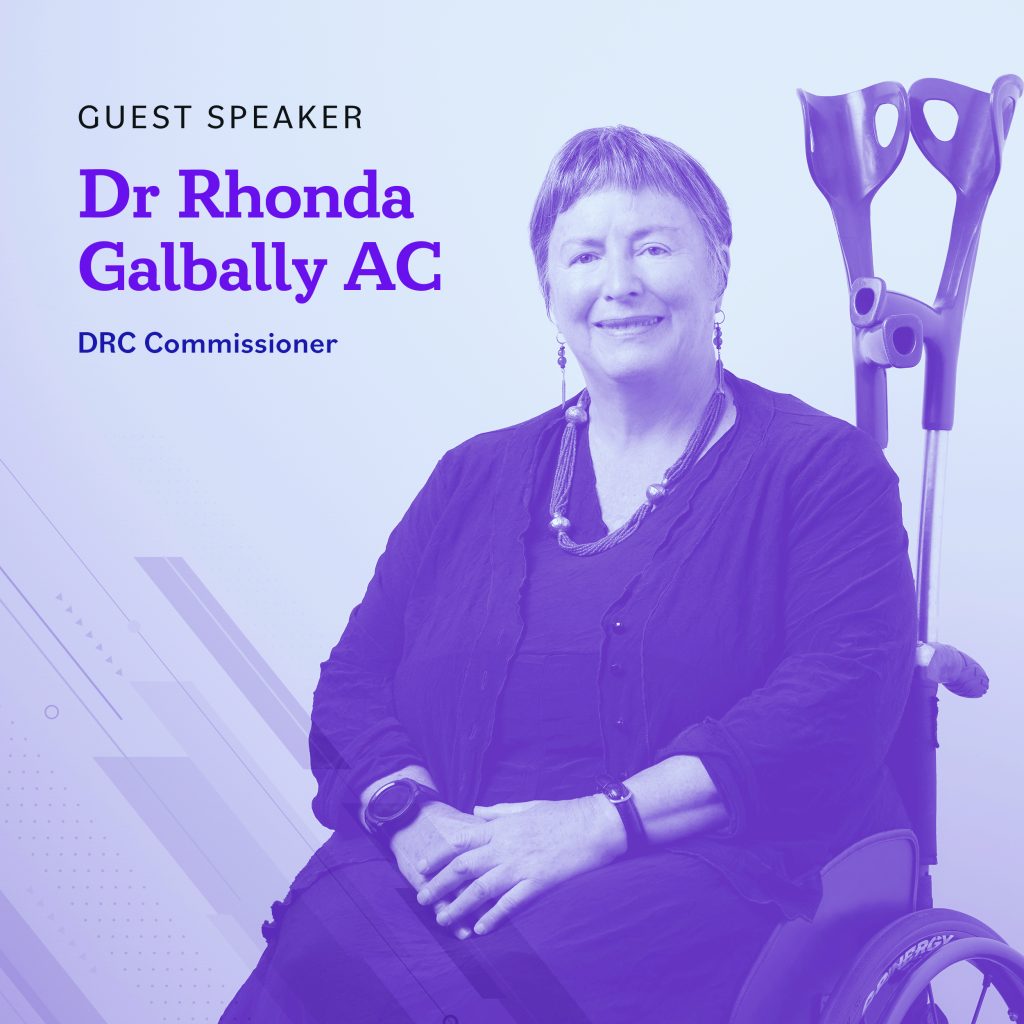 Dr Rhonda Galbally AC
Commissioner, Royal Commission into Violence, Abuse, Neglect and Exploitation of People with Disability
Dr Rhonda Galbally AC has been a CEO, Chair and board member for over thirty years, across business and the not for profit sector, the public sector and philanthropy.
As a woman with a lifelong disability, Dr Galbally first began focusing on disability rights and policy in the early 1980s while working at the Victorian Council for Social Services. Dr Galbally next became the CEO of the Sidney Myer Fund and the Myer Foundation, in that role she served as Chair of the Australian Association of Philanthropy.
Dr Galbally was appointed as the founding CEO of a number of new organisations, including the Australian Commission for the Future, the Australian International Health Institute, the Australian National Preventative Health Agency and Our Community Pty Ltd. Dr Galbally established the Victorian Health Promotion Foundation (VicHealth) as the first organisation in the world to use a levy on tobacco for tobacco control, reducing demand for alcohol, tackling risk factors for heart disease, cancer and diabetes, injury prevention, sexual health and mental health promotion. Dr Galbally was appointed as the Independent Chair of the Review of Drugs Poisons and Controlled Substances Legislation (the Galbally Review).
Dr Galbally chaired the Royal Women's Hospital. She was a member of the expert four-person panel that developed the Victorian Charter of Human Rights and Responsibilities. Dr Galbally then went on to chair the Federal Government's National People with Disability and Carers' Council.
Dr Galbally was a board member of the National Disability Insurance Agency (NDIA) and Principal Member of the Independent Advisory Council which provided advice to the NDIA about the importance of self-determination, social and economic inclusion, peer support and contemporary living models including the right to a mainstream life for people with disabilities.
With a career spanning many decades and positions at the highest levels, Dr Galbally considers that a highlight was developing the National Disability and Carer Alliance that brought together people with disabilities, families and carers with services to campaign for the National Disability insurance Scheme by developing the Every Australian Counts Campaign.
In accepting the role of Commissioner, Dr Galbally is keen to utilise what she has learned from her broad experience which gives her a detailed understanding of some of the major interfacing systems, including health, education, justice and housing. But most of all Dr Galbally brings decades listening to and working shoulder-to-shoulder with people with disabilities and families in fighting for the human right to be able to live lives fully in the community, without fear of violence, abuse, neglect and exploitation.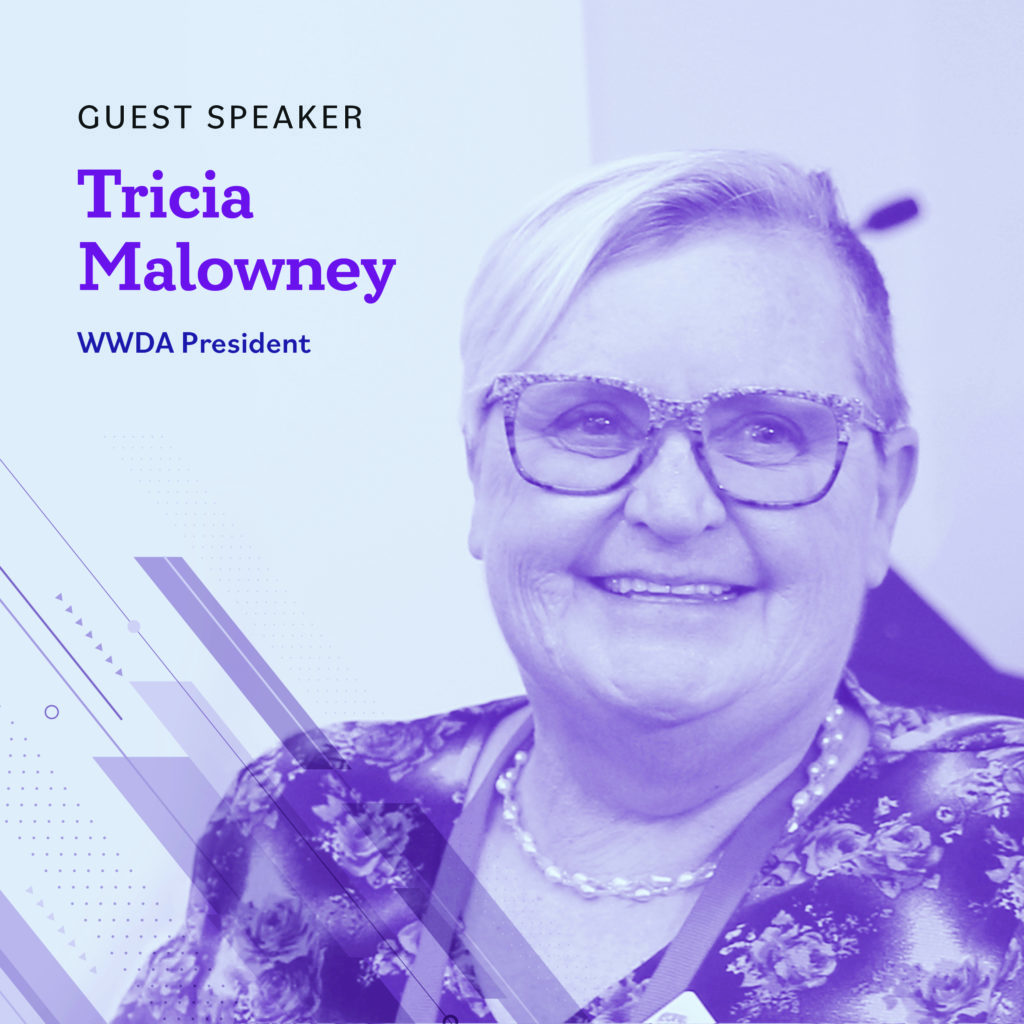 Tricia Malowney
President, Women With Disabilities Australia (WWDA)
Ms Tricia Malowney OAM provides an advocacy consultancy to government and non-government agencies. Tricia is President of Women with Disabilities Australia, a senior member of the Disability Leadership Institute, and works to bring a gender lens to Disability Sector and a disability lens to mainstream services.
Tricia is a Board Director at Western Health, Scope Australia, and has just been appointed to the NDIS Independent Advisory committee and completed a term with the Australian Orthotics and Prosthetics Association Board to bring the voice of the consumer. Tricia was awarded a Medal in the Order of Australia for her advocacy work on behalf of people with disabilities in 2017, In 2013 she was inducted into the Victorian Honour Roll of Women for services to women with disabilities and in 2019 she was Inducted into the Honour Roll of Life Time Achievement in the Disability Awards.
Would you like to learn more about the Disability Royal Commission?
Take a look at our new DRC page, full of useful information a bout the DRC.